New Member

Posts: 3
Joined: Mar 2008
They are down here at Edinburgh now.

Joe
200th Member!

Posts: 409
Joined: Aug 2006
And...now they're gone. Good visit to RAAF Edinburgh...shame that Adelaide Approach are such 'tight asses' when it comes to coastal runs past the city. Reasonable weather and lots of training achieved, but all good things must end and we're all tired and ready to sleep in out own beds again.

Cy, if you happen to be over toward Temora on Monday, we'll be passing through with a 109 on a day into night vis nav (with a stop over for a bite at Temora).

MC
To fly is human, to hover...divine!
Silver Wings

Posts: 12
Joined: May 2008
Hello all.

Were there any RAN " Birdies" at YBCG on Friday ?. From a distance i saw an A109 at the Northrn end of the apron with a Winch fitted so thought it must be from the RAN.
The early morning fog in Brisbane caused a number of planes to divert to YBCG & at one count there were 12 parked & another 3 waiting along the taxi way for a place to unload there PAX. As usual the non-humerous tower folk were hard work when we asked for taxi clearance. I guess the extra work load made them stress even more than usual.

P-Plates.
200th Member!

Posts: 409
Joined: Aug 2006
That would've been one of the RAN machines enroute to Cairns. Would've been leaving Friday morning to continue the trip northward. Mission...to conduct patrol boat aviation training.

MC
To fly is human, to hover...divine!
3rd Dan

Posts: 825
Joined: Sep 2006
Couldn't find a better place for these old movements! I bought a scanner today and scanned a few of my old pics from when I started my flying training in Melbourne in 1997. Included are a couple of pics of the old Vic Police Dauphins and a few from my first year with PHS.
Ron Newman slinging some pipes
Gotta start somewhere, damn mechanical background!
On top of Mt Zeil, 5022' AMSL, west of Alice Springs.
A Jayrow engineer and myself.
Glen Helen, west of Alice Springs.
4th Dan

Posts: 1230
Joined: Jun 2007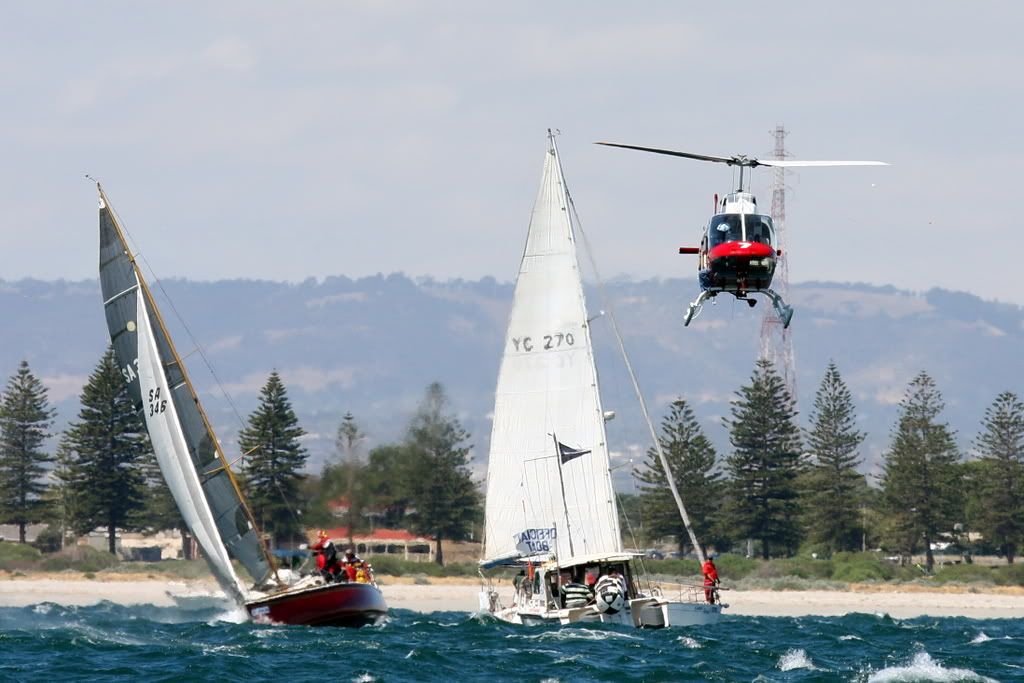 "You'll have to speak up, I'm wearing a towel."
4th Dan

Posts: 1107
Joined: Sep 2006
Back in Oct 2003 whilst conducting a Malee fowl survey for NPWS.this pic was take about 30nm NW of Mildura after the days flying, had to land due to dust/thunderstorm on transit back to base, it was appx 1600 i still remember it vividly, after this pic was taken we all piled into the machine to get out of the rain/mud.....only lasted 15 mins but the machine was a nice chocolate brown afterwards!!
"You can watch things happen, you can make things happen or you can wonder what happened"
2nd Dan

Posts: 341
Joined: Oct 2008
Sweet thread! Love the eye candy, that ec120 is amazing cptn. Had never seen more than the pretty fenestron in your avatar, and damn the whole thing is awesome!

Took these pics of Lifesaver squirrel VH-ELR(?) in December 07 off north straddie. I see them flying around there quite often, but i'm never really sure what there doing! I guess alot of it is routine observation or something..... not necessarily requested shark spotting haha. Anyone got any info on ELR at all, is it still flying the same operations for whoever it is that manages the westpac choppers? Cheers,

Tk
Silver Wings

Posts: 18
Joined: Apr 2009
Queestce,

In regards to ELR (Lifesaver 5) it flys daily from tweed heads to as far north as caloundra, geneally in the southport and straddie area on doing shark spotting. It is operated by the chief pilot of westpac rescue heli serv. on occasion does work for the qld police, as delta 515.
'Boxer'
Capt Poppet

Posts: 734
Joined: Oct 2009
The two 300's brings back memories. Did Ron still have NCL and IHV then Hollywood?
"It's wabbit seathon! It' duck seathon! I dare you to shoot me now!"
---
Return to "Helicopter Movements"
Who is online
Users browsing this forum: No registered users and 1 guest